Our Pastors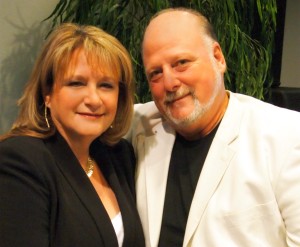 Tyrone & Carol Dastugue
Our Pastors, Tyrone and Carol Dastugue have been the most wonderful Shepherds a flock of sheep could ask for! They have faithfully led our congregation since April of 2000. Yearly, we as a church body, celebrate the long standing of our Church. Our Pastors lead this celebration by prophesying over members of the congregation to build and encourage the body of Christ with the Word of the Lord. They take the celebration of another successful year as pastors, and turn it into blessing the congregation- a truly humble and serving couple. Their desire is for the congregation to "catch a vision" of the Lords plans for their lives. We are a blessed body of believers to serve under a man and woman of God who seek the Lord first in all they do. Together they pray, above all else, God's will to be done.
This beautiful couple met in elementary school and dated throughout high school, the Pastor Tyrone states "She captured my heart by looking so beautiful and full of peace." Together they came to Word of Faith Christian Fellowship searching for truth in 1982, and he says, "boy, did we find it!" Pastor Carol recognized at this time "this is a place of commitment" and from that point on they were committed to serving the Lord at Word of Faith. They began helping out with Youth group in 1985, fell in love with helping kids find their way to Jesus Christ. They were youth pastors for about 15 years, and became Associate Pastors in 1997. Serving faithfully under their pastors, they grew and learned more and more of what the Lord desired for their lives, wisely they listened and obeyed.
"The Lord did a work in our hearts and changed us for the better", together they agree, their heart cries out for the people of all walks of life, to realize that we are the Body of Christ, referencing the scripture; 1 Cor. 12-12-23. "Just as our physical body has many parts and pieces, they are all important and we are in need of each one, so is our Church body. Together they have 3 children, Tyrone II, Joshua, and Tabitha. They are all well into adulthood, married and together have given Tyrone and Carol 4 grandchildren. Their hobbies give insight to their personalities and how much fun they are to serve under! Their hobbies include SCUBA diving, Horse-back riding, Motorcycle adventures, and things of the like. They are a fun-loving couple and make our church a fun-loving place to be.
Scriptures that stand out to them, and that have helped them throughout the years also show their personality and humble spirit. These scriptures include; Proverbs 15:1 A soft answer turns away wrath.. Philippians 3:14 I press on toward the goal to win the prize for which God has called me heavenward in Christ Jesus. Matthew 6:31-34 Do not worry, saying "What shall we eat?" or "What shall we drink?"… Your heavenly Father knows that you need all these things… Seek First the Kingdom of God… Mark 12:30-31 Love the Lord your God with all your heart, soul, mind and strength… Love your neighbor as yourself. It is a pleasure and privilege to attend a weekly service led by a man and woman of God who encourages, uplifts and desires God's will for our lives. Pastor Tyrone's lively personality coupled with Carols nurturing nature make for an outstanding set of Pastors to lead our congregation. Thank you for your years of service to the Lord.